Hi guys, It's Lion back to help you improve to play this game
As everyone who knew my trick to open Single Player Arm Race. It will be easy for player base lvl 21 or lower since the point to open third chest is 475,000 or 255,000. However, for base lvl 22-25 and 26-29 it will be freaking hard since the point so high (840,000 or 1,080,000).
My calculation predict that you need 7 shelters reach lvl 11 and 7 hospitals reach lvl 10 to be able open the third chest (base 22-25 only) but it will consume you more then 200 5 minutes speed up for each round in event. You never be able to do it continuously for a week
So I found out a solution to help you solve the speed up consumption. There is a tech name "Massive Construction" in branch tech "State Conflict". Max research that tech will increase your instant building time form 25' -> 52' (for Vip lvl 9). With this tech, during CSB event you can upgrade shelters and hospitals to lvl 7 or 8 without consume any speed up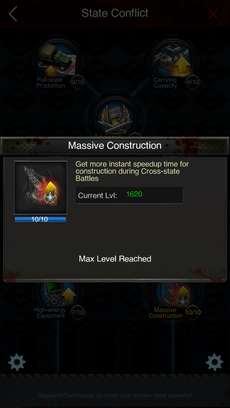 then for lvl 9-11, you only need to use a few speed up with it wont be a problem anymore.
Currently, 3rd chest reward in this event for base lvl 22-25 will reward you VIP raffle lucky pack (give you 2-100k vip point). Try to reach VIP 10 or open VIP shop before you upgrade base 26. VIP shop sell you rss box by few thousand vip point while in store it will cost you 10k diamond
I hope this will help you to play well in this game and grow-up power safely
Best Regards